TSG can be hired on to help projects meet their 35% CBE involvement and stay in compliance with first source requirements of 70% of common labor hours performed by DC residents.
TSG can be hired directly by GC's as a first tier subcontractor to ensure projects don't get behind on their numbers results in devastating fees.
TSG can also be hired on by subcontractors when GC's pass CBE and first source responsibilities onto them. TSG is an easy and convenient way to get credit towards both requirements.
Definition:
"Certified Business Enterprise (CBE) is a business that is headquartered in the District of Columbia and has been certified by the Department of Small and Local Business Development (DSLBD). Businesses with CBE certification receive preferred procurement and contracting opportunities."
Source: https://dslbd.dc.gov/page/certification-faqs
Requirements:
"Developers that enter into CBE Agreements with the District on private projects are required to subcontract at least 35 percent of the project's adjusted budget to CBEs. In total, DSLBD's mandate includes eight (8) compliance and enforcement programs."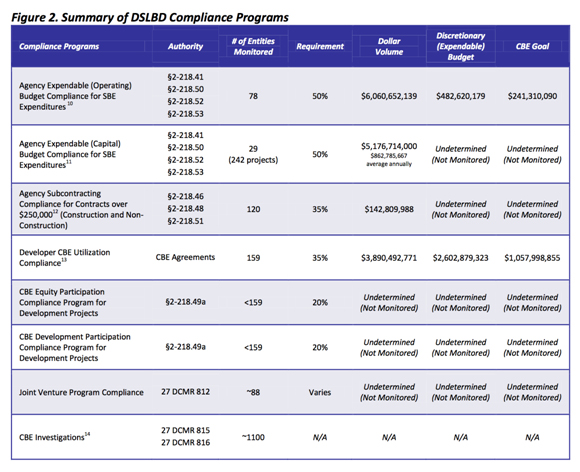 "An individual, or business entity, seeking to develop or purchase District government-funded or assisted property or land, must enter into an agreement with the city to become partners in providing business opportunities to local firms certified through the Department of Small and Local Business Development (DSLBD). These agreements, or CBE Agreements, are executed by the DSLBD and are monitored to determine the achievement of 35 percent CBE utilization over the life of the project's construction."
Source: https://dslbd.dc.gov/service/developer-project-compliance
Explanation:
When it comes to developing in the District of Columbia it is best to team up with a company that understands the requirements enforced by DSLBD. There are a few ways that getting involved with TSG, a Certified Business Enterprise, can help you achieve your required minimum of 35% CBE utilization.
Subcontracting – partner up with TSG to assist in contract management, payment applications, project management, compliance support, vendor verification forms, bonding, and sourcing.
Labor Solutions – increase your DC-based workforce by using TSG's Labor Solution resources. By utilizing a CBE's labor workforce you can easily and effectively increase your CBE utilization requirements while getting some much needed help on the jobsite.
Material Sourcing & Handling – Get TSG involved with the material aspects of your project. We can help source the materials and use TSG's Labor Solution resources to offload the materials upon arrival of the jobsite.
To see our list of successful partnerships, please visit our Projects page (link).
For more information on how partnering with a CBE/SBE can help your next project, please Contact Us